This year 2019 All Saints Day falls on a Friday, so the bridge becomes little more than an extended weekend. But since three public holidays are three public holidays, here are some ideas on where to go on the November holiday, in the form of five getaways through Spain.
We propose you only Spain so that you do not spend more time than necessary of trip, specially if you fly to your destiny, and you enjoy more those three days.
In addition to making suggestions of where to go, where to stay and, in some cases, where to eat we recommend what to see in the form of excursions to make the most of those holidays.
1 Seville
"Seville has a special colour" and is not limited to the days of the April Fair. You will notice it walking along the banks of the Guadalquivir or crossing bridges such as San Telmo or Triana, to have the best perspective of the profile of the city.
In addition to the small Torre del Oro, the Giralda and the Cathedral of Seville will stand out on the horizon, but you will have to walk down the street to visit one of the most spectacular open spaces in the city, the Plaza de España.
Plaza de España, Seville
Discover Seville Hotel Ibis
Seville's Feria de Abril (April Fair) may be the best known fiesta, but you can't leave the city without attending a flamenco session, even though it may seem like a tourist (it isn't).
Activities in Seville
2Puerto de Santa María
El Puerto de Santa María is the brother of Cádiz, on the other side of the bay that the second protects. It's not even in its shade, but it's that affordable to walk around and explore its surroundings.
Before going out to explore them, with their beaches, the sparkling green of Los Toruños Natural Park or the affordable luxury of watching the sunset over a drink in Puerto Sherry, we have to wander through the quiet "El Puerto".
City of wine cellars protected by the D.O. Jerez-Xérès-Sherry (it is essential to visit some of them to have a tapas or a tasting, you have links below), city in which Colón lived, city "of the 100 palaces" for the richness of the Cargadores de Indias, city that saw Rafael Alberti born, the Puerto de Santa María is a small great discovery for a getaway this bridge.
Activities in Puerto de Santa María:
Rent a car with a discount of up to 15%:
3Fuenterrabía
The Basque Hondarribia is the border between Spain and France, which historically brought it some problems in past bellicose centuries but also increased its buildings of interest in the present.
Partially surrounded by a well-preserved high wall, with a castle that cannot hide the fact that it is a fortress, Fuenterrabía has a historic centre full of alleys to walk through.
The colourful houses of Fuenterrabía take us to the bank of the Bidasoa River, a natural border between Spain and France, with a serene landscape of boats that cross between the two countries or sailboats waiting to leave for a leisurely stroll.
Activities in Fuenterrabía:
Excursion to Hondarribia, San Juan and San Pedro from San Sebastián (more info here) Tour of the coastal towns of Guipúzcoa from San Sebastián (more info here)
4Alicante
Situated in the heart of the Costa Blanca, the city of Alicante has an enviable climate suitable for bathing in almost any season (it's almost mine, I'm very cold), with the Mediterranean Sea illuminated by the sun 300 days a year.
In Alicante you will find unique buildings, such as the Central Market, the City Hall, the Basilica of Santa Maria or the Cathedral of San Nícolas, easily admirable on a tour of the center of Alicante.
Esplanade of Spain of Alicante
Photo credits © David Escribano
Do not miss the Paseo de la Explanada, one of the most emblematic places in Alicante, climb the Castle of Santa Barbara or explore the Island of Tabarca.
Activities in Alicante:
5Minorca
An island could not be missing from a list of escapes through Spain for the All Saints' Bridge. We have chosen to recommend Menorca for several reasons.
Firstly, closeness, as a flight from Madrid takes 1.5 hours or less than 1 hour from Barcelona. Secondly, because we have visited Menorca in all seasons, so we know that there is always something worth seeing.
If we talk about seeing, without doubt the best views of Menorca are in Monte Toro, a privileged natural viewpoint from which to contemplate the island in practically all its extension.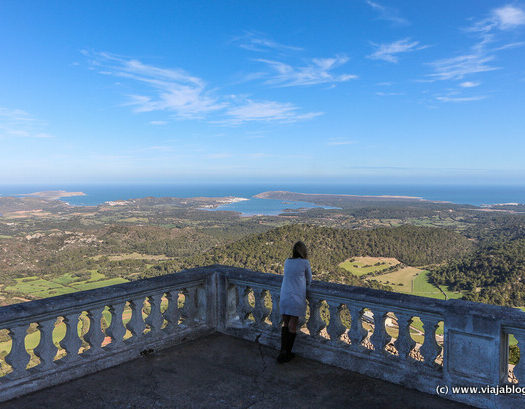 Views from Monte Toro in Menorca (Balearic Islands)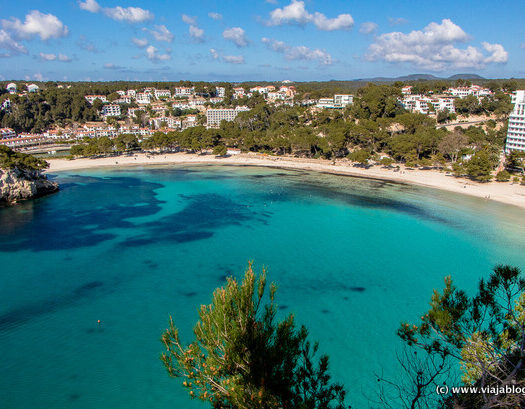 Cala Galdana, Menorca, Balearic Islands
We cannot guarantee that an escape to Menorca in November will be warm, but in Menorca you will find ideal coves to enjoy with the family, or, if you don't want to set foot on the beach, places with history such as Isla del Rey, charming landscapes such as Favàritx Lighthouse or narrow streets to get lost in Ciudadela and Mahón.
A recommendation from my romantic side, don't miss Spain's first sunrise (yes, it's in Menorca).
More information
Menorca Airport is in the south of the island, very close to Mahon (here's how to get from the airport to Mahon) and you can check prices and frequency of flights here. To go from the airport to your hotel, and having that the accommodations are dispersed by all the island, you can use a private transport with driver or rent a car in the airport with which then to cross the island.
You can also go to Menorca by ferry from several cities, such as Barcelona or Ciudadela (Mallorca), but the travel time increases a lot, especially in the first case.
Where to Sleep in Menorca: La Casa de las Especias (Citadel), RifugioAzul & RifugioAzul Boutique (Citadel), Cheap & Chic Hotel (Citadel), Casa Agnes (Mahón), Casa Ládico – Hotel Boutique Adults Only (Mahón), Artiem Carlos III – Adults Only (Es Castell)
Activities in Menorca